62cd6e56cf09952bcbdd934d-regular
Artificial Leaf expandable Faux Privacy Fence
Artificial Ivy Privacy Fence , Enjoy privacy in your yard while upgrading it with a natural look using this faux ivy privacy fence. Simply put it on a fence in the backyard or on a balcony railing to block the view of neighbors.
Description:
Material: High-quality Plastic

Style: Garden, Artificial Leaf Garden Fence

Plant Style: Leaf

Size:: 0.5x1m, 1x1m, 1x2m, 1x3m

Feature: Easily Assembled,Eco-Friendly

Condition:100% new and high quality

Color: A variety of leaf shapes, choose the one you like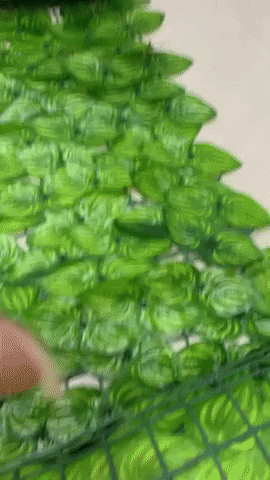 Feature:
Realistic green ivy look: Artificial ivy leaves look natural and give any indoor or outdoor area a blooming, earthy feel without the need for watering. Use zip ties or tape to install. You can crop them to get the size and shape you want. can be used as wall decoration, fence protection, privacy screen.
Functional: Decorate your home while maintaining privacy from the outside world by strategically placing the fence in areas that may be exposed. Artificial Leaf Privacy Decor is intended for both indoor and outdoor use. Additional privacy with no gaps.
Lightfast: Durable, fresh-looking plastic and polyester sheets keep their evergreen appearance all year round and are easy to clean and maintain.
Tightly packed ivy leaves: The leaves of the privacy fence are placed so closely that they are protected from strong sunlight and at the same time allow air to flow through the open mesh back. The additional mesh back embellishes the landscape design with our Artificial Ivy Leaf Privacy Decor Panels. Provides its users with more windshield protection.
Brighten up any room: Easily attach to a fence, gate, wall or other area The lightweight design allows you to move easily to redecorate and beautify rooms and spaces
1. High-quality material: Made of environmentally friendly and odorless high-quality plastic, the polyester fiber leaf looks natural and does not fade under sun and rain. It is resistant to high and low temperatures, aging. It can be used outdoors for a long time.
2. Privacy protection: The fence leaves are placed close enough to block strong sunlight, and at the same time allow the air to circulate. Place the fence in the area that may be exposed. While decorating your house, you can also protect privacy and prevent curious neighbors and passers-by look at your retreat.
3. Noise reduction: The realistic leaves can also play the role of windshield, reducing street noise, making you relaxa.
4. Convenient installation and easy to clean: The grid on the back of the fence can be seamlessly connected and trimmed. With good flexibility, it can be bent. The vine leaves can maintain the evergreen appearance all year round without watering and trimming, easy to clean and maintain.
5. Multi-purpose: The artificial privacy fence can be used for balcony privacy shielding, terrace decoration, wedding wall, bar wall decoration, commercial sign wall decoration, restaurant wall decoration, etc.
Artificial Leaf expandable Faux Privacy Fence